If you feel stuck because you still don't know what you want to be doing with your life this FREE resource is for you.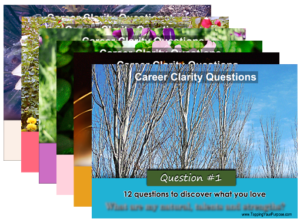 Our minds are incredible tools. When we give them the right questions, they'll do the best to help us find the answer.
Our Inner Wisdom will communicate with us through coincidences, dreams, memories, inspirations and intuitions.
But we need to give it a focus first. And that's why I've created this fun tool:
Introducing you to the Career Clarity Cards
I've designed a beautiful series of cards. Each one has one question to help you discover what it is you'd love to be doing with your life.
Just pick one for the day, (or the week). Read the question and go on with your day as usual. Bring a small notebook with you. Everytime you notice any ideas, memories, insights or coincidences that occur during the day related to you question, jot them down.
Trust in the process.
And don't put too much pressure on yourself: being a little playful will help you more than being too serious with it. So make sure you're having fun with this.
You can pick up your card for the day by visiting:
http://www.tappingyourpurpose.com/freestuff/careerclaritycards/
Career Clarity Cards

Enjoy!
Charo
P.S. What have you discovered about yourself by using these cards? Please share in the comment section below. And if you've enjoyed using them, I'd appreciate if you'd share them with your friends. Thanks!
Guardar
Guardar
Guardar
Guardar
Guardar
Guardar